Pregnancy and Infant Loss Awareness months is fast approaching in October and I think it's time to recall last year's project.
In October 2017 I photographed 12 beautiful ladies with or without their living children, but all with their babies that they are carrying in their heart. The idea of the project was to bring awareness and help to those that suffer in silence and are not able to talk about it. Pregnancy loss and losing a baby after birth is still a taboo in most cases and the healing process is very painful.   Thus, I wanted to give these moms a family photo with all of their babies as a keepsake for generations to come.
The project took off, and in late October, I decided it would be a good idea to bring on some sponsors (full list and link to sponsors are at the bottom of this blog post) and print out calendars so we can sell them. The proceeds from the sales were going back to a non-profit organization called Butterfly Wings Perinatal Bereavement Services, a registered charity located here in Sudbury, ON. They help grieving families with support, a helping hand and with listening ears. So many people pitched in and we sold 121 calendars. In May, Colleen and I met at my studio and I give her all the cash that was collected from the calendar sales. I know this money will go to a great place and they will have a good use for it. Since we usually don't carry this much cash with us, Colleen and I thought playing with it for bit will make some great photos. Please don't think we were disrespecting the money, we promise never do this again. So here is our quick photoshoot with all the $2420 collected!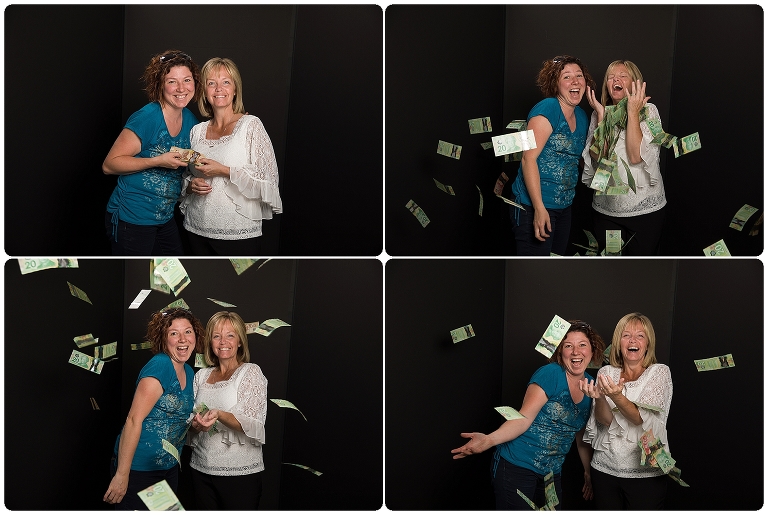 Now, back to our wonderful moms and their families. This will be a long post, with all the 12+1 stories and photographs featured here. Let me start with my l'il family and my story. Thank you for stopping by and for all your support!
---
This is my story:
"Every mother's story is different, but one thing is so similar: we who have lost one baby or more in any stage of the pregnancy or after birth, are all grieving. I'm grieving too and this is my story.

I was very young when I first experienced the death of a child, and I did not understand then what was going on. My mother had lost her second baby eleven days after birth; I was only three years old, but still, to this day, I can remember her laying on the bed and crying. I didn't understand where the baby was, which she was supposed to come home with.
Fast forward to my adult age: I have lost four babies of my own, and today I want to remember them and celebrate them.
I lost my first child because I wanted to lose her. It is incredibly sad. It was my first pregnancy, and I was in a very unstable relationship. I was living far away from my home and my parents. I had to make a decision. I remember the first time I felt I was pregnant. I remember just wanting to keep the baby and be a mother. Everyone around me said otherwise, even my boyfriend at the time. Friends were telling me, 'A baby will ruin your life. How will you take care of it? What will you do?' I was scared, felt very alone, and I made the decision to stop the pregnancy. It was a very lonely and dark time for me. I went through something that I never thought I would ever experience. I was 8 weeks pregnant.
It is very hard to imagine that I would have a 15-year-old teenager right now and how different my life would have turned out if I had kept that baby. I will never know. The one thing I know for sure is that it was a life inside of me, with its own unique personality, eye colour, and smile. That baby's life still deserves to be remembered. Many of us go through an abortion, and many of us regret doing it. I'm blessed that my God has forgiven me for not wanting the child He had sent to me.
The first time I had a miscarriage was about six months after I was married. I was about 8 weeks pregnant, and as happy as could be. I was expecting my first child with my love. The day I lost my baby will always stay with me. My husband and I were photographing a wedding together. I started spotting at the bride's house. I didn't know what was going on, but I hoped it was just something normal. A few hours later, while photographing the wedding party, I was getting pretty serious cramping and bleeding. We had to call in another photographer to take over the wedding. At that point, I was unable to function. I remember my best friend took me home and as I was sitting on the toilet we were praying and crying. I didn't want my baby to be lost in the sewer; it felt very harsh and inhumane. We read a Bible verse that gave me hope and comfort. The verse went like this: "The Lord is my shepherd; I shall not want. He makes me to lie down in green pastures; He leads me beside the still waters. He restores my soul." (Psalm 23:1-3)
We named our first baby Hope, and I am certain that we will see her again in eternity.
A few months later, I was pregnant again. Even though we had a positive test, it was very faint, and I knew something was not right. We lost that baby at 6 weeks. However, within the same cycle, I became pregnant with our first rainbow child. She is turning seven years old soon. My husband and I thought it might be hard to become pregnant again, so we started to try for a second child before the first turned one. Lo and behold, he was conceived right away and born just 20 months after the first.
Our fifth baby — my sixth pregnancy — was almost two years ago, not long after we relocated to the Sudbury area. We were super-happy to be expecting, and told our two children right away that mommy had a baby inside of her. Since I had recently experienced two problem-free pregnancies in a row, I was expecting that this one would be the same. However, it was a very challenging couple of months; we had lots of sicknesses enter into the house that winter and, at 9-10 weeks, I miscarried our baby. I felt very sad, mostly because my children were so disappointed and sad about it; I really wanted to give them a little baby.
The idea for this project came to me last October (2017). Pregnancy and Infant Loss Awareness Month always brings back lots of memories: memories of my own babies, the babies that I photographed while working with NILMDTS, and my friend's baby that I held in my hands after just 23 weeks gestation.
This year, I also talked to my mother a bit deeper about my baby sister. I asked her questions about what had happened and how she feels, and I found out that what she had went through was a nightmare. My sister was born two months premature. My mother never even saw the baby, as they had put her to sleep during the C-section, and they took her baby away. After days of recovering in the same hospital, they never offered her or my dad to go see the child. When she asked, they said, 'She is not doing great. So, just go home and wait until we call.' On January 2nd my parents received a call that my sister had passed. She was only eleven days old. She died alone in a hospital bed, never having felt the warmth of my mother; no one had ever kissed her or held her. This makes me so incredibly sad and angry. I just don't understand how this could even happen. When I asked my parents, they explained that back 35 years ago, in Communist Hungary, this was how they did things: your child is sick, so just let it go. Doctors told her that it would be better for her not to see the baby so that she wouldn't get attached. They told her it was better for the baby to pass as she will be very sick if she survives. My mom, to this day, is grieving inside, I can see her incapability to deal with loss and express emotions.
With this project, I would love to help Moms, Dads, siblings, friends, and family that have experienced the loss of a baby — in or outside of utero — to process, to think, and to start talking about those lovely humans. My wish is for all the mothers who have participated in my project and openly shared their struggles, their losses, and their grief, might find some peace and comfort in these photographs."
~Helga
---
  This is Amanda's story:
"A few months before my son's first birthday, my husband and I decided we wanted a second baby. We got our positive pregnancy test Apr 2016. Weeks later, I fell violently ill, and it lasted almost 2 weeks. I was so ill that I required hospital treatment.
I felt so helpless. I knew the life inside me was being deprived from everything it needed, but I couldn't do anything about it. Blood tests revealed that my pregnancy hormone kept dropping. I felt an indescribable emptiness. I knew the baby was gone. An ultrasound confirmed the dreaded news.
My rainbow baby is now 7.5 months, and I am incredibly thankful I have her and my son here with me. But I think of our lost baby every day, and this baby will always hold a very special place in my heart."
---
This is Kimberly's story:
"In my first marriage, we were pregnant with a baby girl for around 20 weeks. She was diagnosed with a genetic condition called Fetal Cystic Hygroma. Most babies are stillborn, and the ones who survive do not lead very long or fulfilling lives. Right after the diagnosis, we were sent down to specialists at Mount Sinai Hospital in Toronto where an ultrasound confirmed the baby had already passed. Due to how far along we were, I was admitted to the hospital and labour was induced. The baby was wrapped up entirely, and passed to both me and my then-husband. A prayer was said by the hospital minister and her soul guided up to heaven.
We named her 'Dominica', meaning 'Belonging to God'. She was buried at the foot of my fathers grave. This was in Feb 2006; she would have been 11 now.
My first rainbow child was born in Aug 2007, a happy healthy boy whom we named Nathaniel, meaning 'Gift from God'. We then had a little baby girl, Isabelle, in Oct 2010. Both of my children know of their older sister and that she is already up in Heaven with their Grandma & Grandpa.
With my new fiance, we got pregnant in the summer of 2016 and surprisingly found out it was twins at the 6 week ultrasound (fraternal twins apparently runs in my family). At the 12 week ultrasound, we were sadly informed that Twin B had passed away sometime around 8 weeks. My son, who was born March 2017, is a very happy healthy little guy, always smiling.
I would love a picture of me and my children to bring hope to others. I feel it's very important to be there for one another, and to help others understand that they aren't alone."
---
This is Meredith's story:
"After having two healthy pregnancies and births in 2012 and 2014, I had a miscarriage in August 2015 when I should have been around 10 weeks.
My husband and I were on a weekend getaway, celebrating our anniversary, and I noticed some spotting which was not normal in my other pregnancies. I called my midwife who told me that if it was a miscarriage, there was nothing we could do, but she sent me for an ultrasound. I remember going to the appointment and trying to feel hopeful, but in my heart fearing the worst. The technician wouldn't tell me anything and wouldn't let me see the screen. They had a student in the room who was training and they were trying to explain what was happening without giving too much information. As they left the room, I asked them what was going on and they told me that my midwife would follow up.
I was an emotional and crying mess. At that point I knew something wasn't right. When my midwife called me and confirmed that there wasn't a heartbeat my heart sank and I felt like my body had failed me or that I had done something wrong.
I knew that many women experience a miscarriage but I never thought i would be one of them. Emotionally I was a mess for a long time afterwards, and I would cry anytime I would think about it or talk about it. But I have realized that miscarriage is more common than we realize. We just don't talk about it.
When I got pregnant again a few months later, it was very hard emotionally because I was constantly second-guessing everything and I was worried that I would miscarry again. I felt like I was experiencing pregnancy for the first time. There was so much relief when Jaxon was born healthy. I have started sharing more openly about my miscarriage because I think it helps remove the stigma and the feeling of shame that women feel.
While I don't wish a miscarriage on any woman, I am thankful that I can share my experience with other women and let them know that I have been there, and they aren't alone!"
---
This is Crestina's story:
"10 years, 7 pregnancies, 8 babies, and only 2 of which are living. But ALL have left an imprint on my heart. This is my story, a story shared by many whose losses, like mine, can never be erased. I choose today to honour my beautiful babies, lost and living.
Our living daughters have given us the incredible gifts of happiness, love, healing and hope and I know our lost babies live in them and through them.
We will be okay.
We are okay."
---
This is my Friend's story:
"15 years of marriage, and 7 babies who we could never hold in our arms, but we carry them in our hearts every moment.
Our lives have changed because of the limited but special time we could spend together with our babies, and we are grateful for every second of that experience. I am a mother of seven children. This relationship is precious to us and helps us to move on and continue being hopeful. They are all parts of our heartbeats, we carry them in us, and they are ours. The oldest baby would be 9 years old this winter.
I thought it would be good for my soul to have a picture together with My Children, which I was never granted the chance to have before.
Also, I think it is important to create awareness of the unspoken but painful losses that might overshadow some families. This is not a topic we talk about openly, but we should. I have no problem to answer questions though I am rarely given the chance to do so.
People are many times judgmental toward me and accusing me of being selfish or careerist for not choosing family life, without knowing what the reality is. I found myself discriminated and excluded many times without a question being asked based on what is (not) visible. They don't see our unborn children; and I do."
~"He has caused His wonderful works to be remembered; the Lord is gracious and merciful."
(Psalm 111:4)
---
This is Jodi's story:
"My mother-in-law was diagnosed with cancer in September 2014. From that moment, she started praying for my husband and I to have another baby. Just two months later, we found out that we were expecting. We were thrilled to be adding to our family and hopeful that my mother-in-law would get her wish to see the birth of our second child. We did not plan to have any more children, so in all of our minds she would get to see our family complete. At 8 weeks, I began spotting. I was sent for an emergency ultrasound. I remember the empty feeling that came over me as the technician asked me to move this way and that, push down on my belly here and there… I knew in that moment that our baby was gone. While awaiting the results, I began bleeding heavily and experiencing painful cramping.
My mother-in-law passed away after a quick but well-fought battle with cancer in March 2015. As my husband said his final goodbyes, he whispered to his mother not to forget to send a baby down to us. In December 2015, we found out that we had conceived our rainbow baby… likely almost exactly one year after our miscarriage. We know that she hand-picked Liam for us and sent him down to make us whole again. ♡♡
Our oldest has been asking questions about our angel baby lately. He is convinced it was a little sister and we are happy to indulge him. We have named her Avery and somehow giving her a name has made her more real and less a lifetime of hopes and dreams unfulfilled.
I went back to work the day after my miscarriage and spent the next four months helping to care for my ailing mother-in-law. I did not take the time I needed to grieve. I tell my story every October on Facebook; your photo project would add some beauty to our tale and help us find closure. We don't have any photos of our angel baby, so this would be our first.
Whether we are chosen or not this is an incredible thing you are doing to raise awareness for a cause that is so often overlooked. So thank you from one Mom of an angel baby to another. ♡♡"
---
This is Courtney's story:
"Our first-born baby, Greyson, entered the world on June 9th, 2015, after a long labour. We never knew at that point that our lives would be forever changed. Within minutes, a code pink was called and doctors and nurses came rushing in trying to save our little boy's life. After a long 20 minutes, we were told that they were not able to keep Greyson's heartbeat up, and that he had passed. The pain we felt and the sorrow we have is indescribable. I miss him every day and always wonder who he would have been.
Almost a year later after losing Greyson, we found out we were expecting again, and on January 26th, 2017, our son Harrison was safely brought into this world. He is our rainbow baby and brings us light and joy. My boys are my world. Greyson made me a mother and Harrison allows me to nurture like a mother."
---
This is Amanda's story:
"Struggling to conceive over two years, I found out I was pregnant on Easter morning 2015. I had an easy pregnancy with a perfectly healthy baby boy growing in my belly. Overdue, we headed to the hospital for my induction and my labour progressed very slowly. There were many times the doctor came in to consult my midwives on the progress of my labour. The doctor had to keep trying to turn Kohl because he was face up instead of face down. After multiple consultations, I started to get concerned asking questions but none of my concerns were heard. After begging and pleading with them to make sure he was okay, I was told to start pushing. The doctor assured that everything was fine; all I had to do was push, and then he left the room. With my midwives by my side I pushed for 2 hours. Nearing the end they were having issues trying to get the heart beat monitor readings. When my son finally made his arrival on December 23rd, he was grey and almost lifeless. There was a team waiting when he made his arrival because I was told there was meconium present. They tried everything they could to revive him and rushed off to the NICU. Later, I was told that I could finally go see my son. No one gave any answers as to what exactly happened. I was left in the dark. They flew him to Sick Kids where the darkness continued. I spent 28 hours in and out of emergency at Mount Sinai across the street from Sick Kids. I was having issues with controlling my bladder from pushing for so long and I had what they called an epidural "headache". The only relief was laying down to relieve the pressure. I barely got to see Kohl for the first few days following his birth.
Later, I was informed my son was born with Birth Asphyxia. The doctor that gave us the results told us it was one of the worst cases he has ever seen. We flew Kohl back to Sudbury where he passed peacefully at ten days old in our arms. Kohl would have been 2 years old this December… we miss him so much.
I wanted my story to be heard so people know that you can go into the hospital with a healthy baby and not come out with one. Birth complications can arise and in my case, had there been better monitoring of my and Kohl's heart beat, he could have possibly survived. My husband and I are experiencing secondary infertility and left with shattered hearts."
---
This is Emilie's story:
"I met my husband Jason in 2008 – the old-fashioned way… online! He already had a 5-year-old daughter from a previous relationship (Emma). She was the cutest thing. Unfortunately, being a step-parent was a difficult thing for me to get used to, so we didn't always get along. Now that she is 15, we are very close.
My husband and I married in 2010. We began immediately trying for children. We married in Jamaica in March, and got pregnant right away. Six weeks later, I suffered my first miscarriage. My second pregnancy was later in the Fall. I miscarried in November at 11 weeks. I was devastated and began thinking that I would never carry to term. Thanks to the help of my midwives, Jason and I persisted. It was very painful and I just wanted to move on. That being said, I will never forget those babies.
By the spring, I was pregnant again and my son Sam was born in November 2011. A few months later, Jason and I entertained having a second child. Knowing the difficulty we had getting pregnant (or staying pregnant, rather), we started trying when Sam was only 6 months old. Lo and behold, Alice was born 9 months later in February of 2013. Emma has always been a wonderful big sister to Sam and Alice. She refers to the children as 'our children'. She has always been a huge help with both of them and they love her dearly. That's why I think it would be wonderful to have myself and all three children participate in the photo-shoot. Emma and I have had a rocky relationship, but in the end, we love each other, and both of us love Sam and Alice with all our hearts. We will always have that in common."
---
This is Sophie's story:
"My first born, Annabelle, was 4 months old when I landed in the ER with excessive bleeding. I had no idea what was happening!
I was just pulling into our driveway, coming from visiting a friend when I felt a big gush between my legs. I rushed inside with Annabelle in the carrier and went straight to the bathroom. I was shocked and scared when I realized the gush was blood. I called my doctor who turned out to be out of the office; the nurse who answered said I should go straight to the ER. My husband Nathan had left his phone in the house and gone for a walk on our property so I left him a note and headed for the hospital. I didn't know I was pregnant yet (a small blessing), and I was only about 8 weeks along. Nathan and I wanted our kids close together though we hadn't really planned for THAT close together.
I hurt. My heart hurt a lot and I couldn't just get over it. I think it's the possibilities and the what-ifs, what life could have been like, who that baby could have been, that really hurt.
I realized that people don't really talk about miscarriage even though it turns out that it's relatively common. The fact that no one talks about it, made me feel like I shouldn't talk about it either. I feel that a project like this, is a great way to raise awareness, remove the stigma, and maybe it could help me heal just a little.
I am 4 months pregnant with our third baby; everything seems good, and the baby seems healthy. The fear of loss is still there, though. I'm not sure it'll go away until after I deliver and that beautiful baby starts to cry."
---
This is Kaycee's story:
"My first son, Dominic, was stillborn in 2013. I was 29 weeks along and had gone in for a routine checkup with my midwives. They detected low growth and had difficulty locating a heartbeat. Once I was rushed over to Health Sciences North, it was determined that Dom had stopped growing between 20 to 22 weeks and had passed away in utero. I was then given medication to induce labour, and after 14 agonizing hours, delivered him still. We represent him through dragonflies as the morning he was born, my sister-in-law had a baby dragonfly land on her arm. She was filled with a sense of peace and felt like that was his soul visiting her.
We have 1 living child, Theodore. He just turned 3. They are 11 days under a year apart. He is the absolute light of our lives. I don't know how I would have survived if I hadn't become pregnant again so quickly.
I want to be in this project because I truly believe that spreading awareness surrounding Pregnancy and Infant Loss Awareness is incredibly important.
I, myself, have recently saved up enough money to purchase a Cuddle Cot for our hospital here in Sudbury. This will be our first and only unit here, and will give families more time with the babies they have lost. Hopefully it will provide a little more peace than we had."
---
This is Michelle's story:
"I lost two children to a rare genetic condition called "Robertsonian Translocation". My chromosomes 13 and 14 are fused together, and whenever I conceive, if the baby replicates any part of the fused chromosomes, the pregnancy has a high risk of resulting in a miscarriage and/or my baby could be born with severe developmental delays and pass away within 1 year of life. I lost one angel on July 16, 2016, and another on November 1, 2016. I named them Avery and Aleks, respectively.
I recently gave birth to one happy and healthy baby girl on October 1st, 2017. My baby was born on the same day my mother passed away in 1996. She was named after her grandmother, Claire.
I want to be in this project because I want to help represent mothers of rainbow babies and also help to end the silence around miscarriages. I want mothers to be more comfortable talking about their miscarriages and I want their loved ones to realize that they need to talk about their babies who were born in Heaven. I also want to commemorate the babies that I have lost and that I will always have a place for in my heart and for which my heart aches every day."
---
Thank you so much for everyone who contributed to the sale of the calendar, and special thanks to all the sponsors.
Please click on the link and check out everyone's website or Facebook page:
---
Last but not least, let me finish this blog with a shout out to Colleen, the founder of Butterfly Wings Perinatal Bereavement Services.
She herself has also lost 8 babies and when she couldn't find any local support, she decided that she will be the one who gives support to families going through grief.
If you would like to donate directly to Butterfly wings, please do so by making a payment to:
Butterfly Wings Perinatal Bereavement Service
2355 Muriel Crerscent
Sudbury, ON, P3E 4W5
Registration number: 82400 4006 RR0001
With Love,
Helga